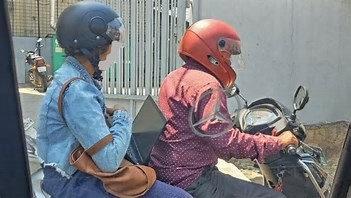 Photo captures the toxic work culture in Bengaluru as employees face pressure to meet deadlines
Bengaluru, May 18, 2023 – A thought-provoking photograph of a woman working on her laptop while riding pillion on a two-wheeler in Bengaluru has ignited a debate about the unrealistic work demands placed on employees. The image, captured along the Koramangala-Agara-Outer Ring Road patch, has been widely circulated on the internet, shedding light on the city's bustling and often overwhelming work environment.
The photo, shared by Twitter user Nihar Lohiya, serves as a stark reminder of the pressures faced by employees in Bengaluru's fast-paced corporate world. It highlights the lengths individuals are willing to go to meet their professional commitments, even if it means working on the go amidst the city's congested streets.
Reacting to the photograph, social media users expressed their concern over the toll such demanding work expectations can have on an individual's well-being. One user criticized employers, saying, "Imagine the pressure if she has to work on a damn motorbike. Employers are so callous." This sentiment resonated with many, who recognized the need for more understanding and support from companies toward their employees.
Another commentator empathized with the woman in the photo, highlighting the challenges faced by workers in Bengaluru's chaotic traffic-laden streets. They wrote, "Imagine the pressure, the feeling of being lost in your own city where you work 10+ hours a day, the disdain. All she needed was a smooth, traffic-free route where she could commute calmly from her home without having to account for the 'extra' hour it takes to go via a 5KM stretch."
The viral photo has sparked a broader conversation about work-life balance, employee well-being, and the impact of unrealistic work demands on mental health. Many have called for employers to reassess their expectations and cultivate a more supportive work culture.
Bengaluru, often referred to as India's Silicon Valley, has a reputation for its high-intensity work environment, with employees frequently working long hours to meet project deadlines. However, this incident has shed light on the potential negative consequences of such demanding expectations, prompting a reflection on the importance of employee welfare and sustainable work practices.
As the discussion surrounding the photo continues to gain momentum, it serves as a wake-up call for employers and policymakers to address the issue of work-life balance and ensure that employees' mental health and well-being are prioritized. It is crucial to create an atmosphere where individuals do not feel compelled to work under hazardous or stressful conditions, but rather one that fosters productivity, creativity, and a healthy work-life equilibrium.
As companies strive for success and productivity, it is equally important to recognize the long-term benefits of supporting employees' physical and mental well-being. Through fostering a healthier work culture, employers can contribute to the overall happiness and productivity of their workforce, while also reducing the potential risks associated with burnout and other mental health challenges.
It is hoped that the attention garnered by this thought-provoking photograph will serve as a catalyst for positive change in Bengaluru's corporate landscape, leading to more compassionate and sustainable work environments that prioritize the holistic well-being of employees.