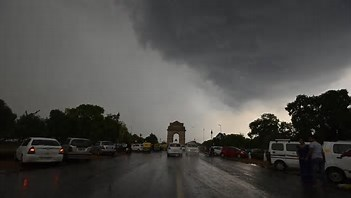 Delhi and its adjoining National Capital Region (NCR) experienced heavy rainfall and thundershowers late Wednesday night, bringing relief from the scorching heat prevailing in the region. The India Meteorological Department (IMD) has forecasted further showers in the coming days, while the temperature is expected to remain unchanged. This weather development follows the recent rise in pollution levels, which reached the "very poor" category on Wednesday.
According to the IMD's bulletin issued on Thursday morning, thunder squalls with moderate-intensity rain and gusty winds, reaching speeds of 50-70 km/h, are expected to occur over and in the vicinity of NCR, including areas such as Loni Dehat, Hindon AF Station, Ghaziabad, Indirapuram, Chhapraula, Noida, Greater Noida, Faridabad, Ballabhgarh, Palwal, and Nuh (Haryana). The forecast also indicates a generally cloudy sky with light rain or drizzle on May 19, followed by strong surface winds and rainfall on May 22 and 23, respectively.
The heavy rainfall comes as a respite for the region, which has been grappling with scorching temperatures and deteriorating air quality. On Wednesday, the Central Pollution Control Board (CPCB) recorded an Air Quality Index (AQI) of 336 for Delhi, marking the worst pollution level since February 18 when the AQI stood at 371. The rainfall is expected to help alleviate the pollution and improve the air quality in the coming days.
In a separate weather update, the IMD announced a delay in the onset of monsoon over Kerala by three days. The monsoon is now projected to arrive on June 4, as opposed to the normal onset date of June 1. This delay could have implications for agricultural activities and water availability in the region. The IMD will continue to monitor the monsoon's progress and provide timely updates.
As the region embraces these much-needed showers, it is advised that residents remain cautious during thunderstorms and follow any safety guidelines issued by local authorities. Adequate precautions should be taken to prevent any potential damage caused by strong winds and heavy rainfall.
The IMD will continue to closely monitor weather patterns and provide timely forecasts to ensure the safety and well-being of the residents in Delhi and the surrounding NCR.