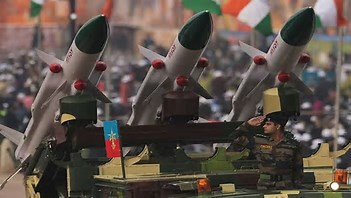 India's defence production has experienced significant growth, exceeding $12 billion (1.07 trillion rupees) for the first time in the fiscal year that ended on March 31, according to an announcement made by the government on Friday. This milestone marks a substantial increase of over 12% from the previous year, demonstrating India's efforts to decrease its dependence on defence imports, particularly from Russia.
As the world's largest arms importer in the last decade, India heavily relies on Russia for nearly half of its military supplies. However, recent events such as the war in Ukraine have resulted in delays in the delivery of critical Russian spares, affecting India's ability to maintain its tank and fighter jet fleets, as well as impeding the timely acquisition of Russian air defence systems.
In light of these challenges, India has strategically focused on boosting its domestic defence production capabilities, with encouraging results. The value of India's local defence production surged to 1.07 trillion rupees in the past fiscal year, and it is expected to continue rising as data from additional private defence companies is incorporated, as stated by the Ministry of Defense.
The Indian government has actively collaborated with defence industries and their associations to address the obstacles faced by the sector, aiming to promote indigenous defence production. The Ministry of Defense affirmed its commitment to working closely with defence industries to overcome challenges and further enhance the country's defence manufacturing capacity.
This significant increase in defence production not only showcases India's determination to reduce its reliance on imports but also signifies the country's growing self-sufficiency in meeting its defence requirements. By strengthening its domestic defence industry, India aims to enhance its national security, create employment opportunities, and promote technological advancements within the defence sector.
The achievement of crossing the 1 trillion rupee threshold in defence production highlights the positive momentum and potential for continued growth in this crucial sector. India's expanding defense capabilities will contribute to bolstering its defence preparedness and securing its position as a global player in the field of defence manufacturing.
With a robust defence production ecosystem, India is well-positioned to meet its defence requirements, reduce vulnerabilities associated with import dependencies, and stimulate economic growth. This achievement further underlines the country's commitment to a self-reliant defence sector capable of protecting its interests while fostering innovation and advancement in defence technologies.