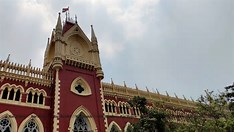 In a significant development following the tragic explosion at a firecracker factory in the Egra area of East Midnapore, the Calcutta High Court has directed the State Crime Investigation Department (CID) to register a case under the Explosive Substances Act. A division bench comprising Chief Justice TS Sivagnanam and Justice Hiranmay Bhattacharyya issued the order, emphasising the need for strict adherence to the provisions of the National Investigation Agency Act (NIA Act) in such cases.
The court, while examining the matter, expressed a prima facie view that the Explosive Substances Act would be applicable. Accordingly, it instructed the State CID to invoke the relevant provisions of the act. Additionally, the bench called for compliance with section 6 of the NIA Act, which requires the state government to submit its report to the central government in the event of a "scheduled offence" occurring within the state.
"We are of the prima facie view that provisions of the Explosive Substances Act will be attracted. Therefore, we order the State CID to invoke the said provisions and adhere to the provisions of the NIA Act, and report in this regard be placed before us on June 12," the bench directed.
However, the court declined to transfer the investigation directly to the National Investigation Agency (NIA) and rejected the plea for deploying paramilitary forces in the Egra region. The court clarified that there was no evidence of a law and order situation warranting the presence of paramilitary forces. Nevertheless, it granted the state government the freedom to deploy forces if it deemed necessary to maintain law and order.
The court's order came in response to a Public Interest Litigation (PIL) filed by BJP leader Suvendu Adhikari, who sought an NIA investigation into the Egra blast. Adhikari alleged that the state police intentionally refrained from invoking the provisions of the Explosive Substances Act. The PIL drew attention to the tragic loss of nine lives in the incident.
Advocate General SN Mookerjee, representing the state, clarified that the incident occurred at a fireworks factory and initially, the local police conducted the investigation. However, the case was later transferred to the State CID, which is currently carrying out further inquiries and making arrests.
Deputy Solicitor General Billwadal Bhattacharyya, appearing on behalf of the NIA, contended that since a scheduled offense had taken place, the investigation should be handed over to the agency.
The court, while refusing to transfer the probe, scheduled the matter for further hearing on June 12. At that time, the State CID will submit an "action-taken report" before the court, providing an update on the progress of the investigation.
The high court's order reflects its commitment to ensuring a thorough investigation into the Egra blast and holding those responsible accountable under the relevant laws. The case's subsequent proceedings will shed further light on the circumstances surrounding the incident and the actions taken by the authorities in response to this tragedy.