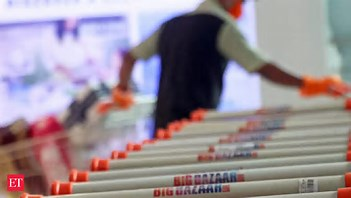 Retailer's Creditors Frustrated as Bid Falls Short of Outstanding Dues
In a disappointing turn of events for Future Retail, the bid submitted by Space Mantra, a company promoted by former NBCC chairman Anoop Kumar Mittal, has sparked concerns about the future of the beleaguered retailer. Space Mantra's bid of ₹550 crore, which is less than 3% of the total outstanding dues of ₹19,200 crores owed to financial creditors, has left creditors dissatisfied and sceptical about the company's recovery prospects.
While creditors have received five other smaller bids for various parts of Future Retail, Space Mantra remains the sole bidder to express interest in acquiring the entire company. However, their request could be stronger, laden with numerous conditions, including payment to lenders only after the sale of assets. This conditional offer, coupled with the paltry recovery rate, has deterred lenders from embracing the bid wholeheartedly.
The bid by Space Mantra registered as a retailer of building material, hinges on the successful sale of the company's remaining assets within six months of the takeover. Should the sale fail to materialize, the company reserves the right to return the assets to the lenders. Such preconditions and uncertainties have further dampened the hopes of creditors for a favourable outcome.
Experts in the industry believe that the low recovery rate and the arduous conditions set forth by Space Mantra are likely to dissuade lenders from pursuing the bid. The absence of strong bids and the erosion of Future Retail's brand value due to the prolonged bankruptcy process has led to speculation that the company may be headed for liquidation.
Despite initial optimism, the creditors' hopes of recovery were dashed when major conglomerates, Reliance Industries and Adani Group, refrained from making binding bids for Future Retail. With the expiration of leases, Reliance Retail has taken over most of Future Retail's stores, leaving the company with only 302 operational stores, some furniture and fixtures, non-perishable inventory, and investments in subsidiaries, which lenders believe can still hold some value.
Resolution professional Vijaykumar Iyer, responsible for overseeing the bankruptcy process, has yet to comment on the matter. However, the disheartening state of affairs has left lenders disillusioned, as they are now faced with the prospect of meagre recovery and a prolonged battle for even minimal returns.
The future of Future Retail remains uncertain, as the company grapples with financial challenges, expired inventory, and a tarnished brand image. The lack of robust bids and the unconvincing bid by Space Mantra have raised doubts about the potential revival of the retailer. Creditors are now confronted with the arduous task of deciding whether to accept a bid that falls far short of their expectations or pursue alternative paths towards recovering their dues.