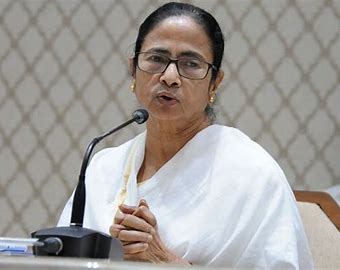 In a surprising turn of events, West Bengal Chief Minister and Trinamool Congress (TMC) supremo Mamata Banerjee has hinted at the possibility of supporting the Congress party in states where it holds prominence. This statement comes shortly after the grand old party's impressive victory in the Karnataka Assembly election, indicating a potential realignment of political alliances.
Mamata Banerjee, known for her outspoken nature and past criticisms of the Congress, expressed her willingness to support the party during a press conference held on Monday. However, she also emphasized that for such an alliance to materialize, the Congress should reciprocate the same level of support to other regional parties.
"Wherever Congress is strong in its respective states, they should fight, and we will support them. However, Congress should also show a similar support to other political parties," Banerjee stated, highlighting the need for mutual cooperation among parties with shared interests.
This development comes as a surprise to many, considering Mamata Banerjee's past criticisms of the Congress party. Over the years, she has been vocal in expressing her dissatisfaction with the Congress leadership and their approach to coalition politics. However, the recent electoral victory in Karnataka seems to have sparked a potential shift in her stance.
The Congress party, which has been striving to regain its lost ground and revive its presence in various states, will likely view Mamata Banerjee's statement as a positive sign. With her stature as a seasoned politician and a popular regional leader, her support could significantly strengthen the Congress' prospects in key battleground states.
It is important to note that Mamata Banerjee's Trinamool Congress has been a dominant force in West Bengal, successfully securing a massive victory in the state assembly elections held last year. The party's strong position in the region, coupled with Mamata Banerjee's national political ambitions, puts her in a strategic position to forge alliances with like-minded parties.
The potential alliance between the TMC and the Congress could have far-reaching implications for the political landscape in various states. It may provide a formidable challenge to the ruling Bharatiya Janata Party (BJP) and other regional parties. The combined strength of the TMC and the Congress, if united, could potentially alter the dynamics in state politics and create a strong opposition front.
While Mamata Banerjee's statement indicates a willingness to support the Congress in states where it is prominent, the specifics of such an alliance are yet to be determined. Negotiations, seat-sharing arrangements, and the overall strategy would need to be worked out in due course.
As political dynamics continue to evolve, the coming months will witness intense deliberations among party leaders and potential coalition partners. The political landscape in India may witness significant shifts as regional parties explore new alliances to counter the ruling party's influence.
The statement made by Mamata Banerjee opens up new possibilities and signals a potential realignment of political forces. As parties strategize and negotiate, only time will reveal the extent to which the TMC and Congress can establish a cooperative partnership and reshape the political scenario in various states.