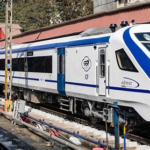 Puri, Odisha – In a significant boost to Odisha's railway infrastructure, Prime Minister Narendra Modi virtually inaugurated the state's first Vande Bharat Express on Thursday. The grand event witnessed the flagging off of the train, which is set to cover the 500-kilometer distance between Howrah and Puri in a remarkable six and a half hours.
With 16 coaches showcasing modern amenities and state-of-the-art facilities, the Vande Bharat Express is poised to revolutionize travel between the two important cities. PM Modi, during the inauguration, also laid the foundation stone and inaugurated several railway projects worth over Rs 8,000 crores in Odisha, further emphasizing the government's commitment to developing the region's connectivity.
"Vande Bharat is a symbol of developed India and aspirant Indians. When Vande Bharat travels from one place to another, it reflects India's speed and development," expressed PM Modi at the launch of the Puri-Howrah Vande Bharat Express train. This new addition to India's rail network not only represents progress but also caters to the growing aspirations and needs of the Indian populace.
The Vande Bharat Express, known for its cutting-edge technology and superior performance, is equipped with features that ensure a comfortable and safe journey for passengers. The train's aerodynamic design facilitates reduced air drag, leading to increased energy efficiency and higher speeds. Moreover, it boasts automatic doors, onboard Wi-Fi, GPS-based passenger information systems, and improved seating arrangements, elevating the overall travel experience.
The reduced travel time between Howrah and Puri is expected to significantly benefit commuters, tourists, and pilgrims alike. By providing faster connectivity, the Vande Bharat Express opens up new avenues for economic growth and tourism in the region. It also aligns with the government's vision of building a modern and efficient railway network that serves as a catalyst for national development.
The inauguration of this train and the accompanying railway projects mark a major milestone in the development journey of Odisha. The state has been witnessing rapid progress in various sectors, and the enhanced rail connectivity will play a crucial role in furthering its socio-economic growth. The government's commitment to investing in the region's infrastructure will foster inclusive development and generate new employment opportunities.
The Vande Bharat Express, a shining example of indigenous manufacturing and innovation, holds the promise of transforming travel experiences for millions of Indians. With its impeccable speed, advanced features, and focus on passenger comfort, the train embodies the nation's progress and aspirations. As the Vande Bharat Express embarks on its maiden journey, it signifies a new era of efficient and modern rail travel, reinforcing India's commitment to a developed and connected future.