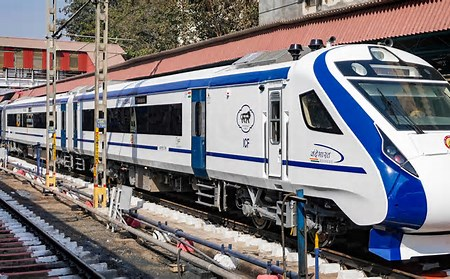 The Vandhe Bharat Express to run between the two cities of Puri and Howrah, it will cover 500 kms in around 5 hours 30 minutes. At present, the Shatabdi Express is the fastest train on this route, taking around 7 hours 35 minutes to cover the same distance.
the Puri-Howrah train will make likely stoppages at these stations: Khurda Road Junction, Bhubaneswar, Cuttack, Jajpur Keonjhar Road, Bhadrak, Balasore, and Haldia.
rom Howrah, it is expected to depart at 5:50 am and reach Puri at 11:50 am. Its return journey will begin at 2 pm and conclude at 7:30 pm.
The fare is likely to be ₹1,590 (including ₹308 for catering) for Chair Car and ₹2,815 (including ₹369 for catering) for Executive Class. If, however, a passenger opts for 'no food,' catering will not be included in the fare. West Bengal's first Vandhe Bharat, the country's seventh, was flagged off in December last year, and connects Howrah and New Jalpaiguri. In Feb 2019, the first Vandhe Bharat began its run, and currently, 15 such high-speed services are in operation; in 2023 alone, 8 trains have already been introduced.
The Vande Bharat Express is a state-of-the-art train, which has been manufactured in India with indigenous technology. The train is known for its speed, comfort and safety features. The Vande Bharat Express has already been launched on several routes in the country, and has been highly popular among passengers.
The decision to launch the Vande Bharat Express between Puri and Howrah is a significant one, as it will help to connect two important cities in the eastern region of the country. The train is expected to reduce the travel time between Puri and Howrah by several hours, providing a faster and more efficient mode of transportation for passengers.