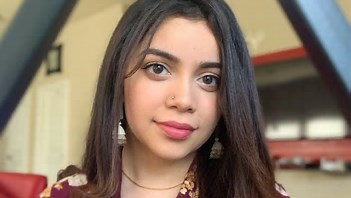 Tragic Incident Highlights the Urgent Need for Enhanced Safety Measures and Regulations
In a heartbreaking turn of events, the lifeless body of Lahari Pathivada, a 25-year-old Indian-American woman, was discovered approximately 322 kilometres away from her workplace in Texas. The young woman had vanished under mysterious circumstances while on her way to work, leaving her family and friends distraught. Her disappearance had triggered a widespread search effort that tragically ended when her body was found in the neighboring state of Oklahoma, just one day after she went missing.
Lahari Pathivada, a resident of Mc Kinney in Collins County, Texas, was last seen driving a black Toyota on her regular commute through the El Dorado Parkway and Hardin Boulevard area in the Dallas suburb. Her concerned family and friends became worried when she failed to return home after work on May 12. As they tried to track her down, it was her phone's location in Oklahoma that raised the alarm, prompting them to alert the authorities.
The news of Lahari's disappearance and subsequent discovery of her deceased body spread through social media, largely due to the efforts of the WOW community group in Texas. This community group played a vital role in amplifying the message and raising awareness about her disappearance, underscoring the power of social media in such cases.
Although specific details surrounding the circumstances of Lahari Pathivada's death have not been disclosed, the incident has ignited discussions about the importance of safety measures in recreational activities and the pressing need for extensive safety regulations in these areas.
Lahari Pathivada was a dedicated employee at the Overland Park Regional Medical Centre, as indicated on her Facebook page. She had previously graduated from the University of Kansas and attended Blue Valley West High School. The loss of this young woman has had a profound impact on her family, friends, and the local community, who are now grappling with grief and seeking answers.
As authorities continue their investigation into the tragic case, it serves as a stark reminder that the safety of individuals engaging in everyday activities must remain a top priority. Whether it is commuting to work or participating in recreational pursuits, ensuring adequate safety measures and regulations can help prevent such devastating outcomes.
This incident has sparked a call for comprehensive safety guidelines and regulations, with a particular emphasis on implementing measures that enhance personal security during daily routines. It is essential for communities, law enforcement agencies, and relevant authorities to work together to develop effective strategies that prioritize the well-being and protection of individuals.
While the investigation into Lahari Pathivada's death unfolds, her family, friends, and the wider community mourn the loss of a vibrant young woman whose potential was tragically cut short. Their collective grief serves as a somber reminder of the urgent need to prioritize safety measures and regulations, ensuring that no one else falls victim to such unfortunate circumstances in the future.
As the search for answers continues, it is hoped that Lahiri's case will spark constructive dialogue and prompt tangible actions to prevent similar incidents from occurring, thereby creating a safer environment for all individuals, both in Texas and across the United States.