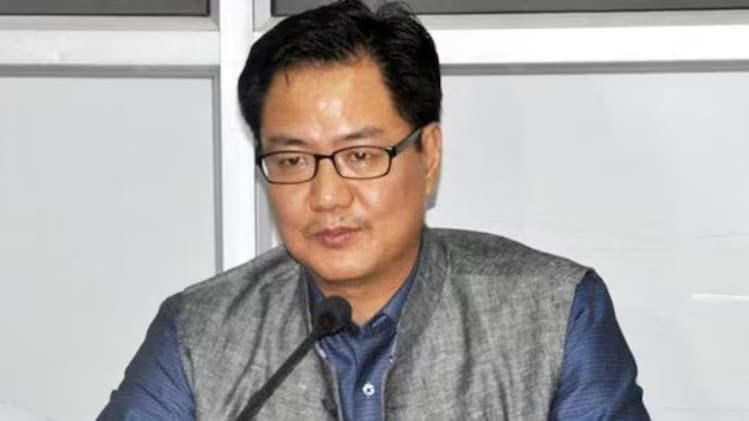 In a surprising turn of events, Kiren Rijiju, the former Union Law Minister, spoke out regarding his recent transfer to the Ministry of Earth Sciences, emphasizing that the move was not a punitive measure but rather a part of the government's plan and Prime Minister Narendra Modi's vision. Rijiju, who took charge of his new ministry today, declined to comment on his past disagreements with the judiciary, stating that it was not the appropriate time for political discussions.
During his tenure as Law Minister, Rijiju had occasionally found himself at odds with the Supreme Court over matters such as judges' appointments, leading to some tension between the government and the judiciary. However, Rijiju refused to dwell on his previous role, suggesting that questions regarding his stint in the law ministry were no longer relevant.
"This shifting is not a punishment; this is the plan of the government. This is the vision of PM Modi," Rijiju asserted, clearly indicating that his transfer was not intended as a form of reprimand. With a focus on his new responsibilities, Rijiju expressed his commitment to working diligently, as directed by the Prime Minister.
Rijiju had assumed the position of Law Minister on July 7, 2021, following the departure of Ravi Shankar Prasad. In a significant move ahead of the upcoming Lok Sabha elections, Arjun Ram Meghwal has been appointed as the new Law Minister. The timing of this transition has raised eyebrows, particularly given the past disagreements between Rijiju and the Chief Justice of India on matters related to the judiciary.
Previously, Rijiju had criticized the collegium system, wherein judges appoint judges to higher courts, stating that it was "alien" to the Constitution. In January, he wrote to Chief Justice Chandrachud, advocating for the inclusion of government nominees in the collegium system. These remarks, along with his comment about "retired activist judges trying to make the judiciary play the role of an opposition party" in March, sparked controversy and garnered backlash.
While Rijiju's transfer may be viewed by some as an attempt to alleviate tensions between the government and the judiciary, only time will tell how this change will impact the dynamics between the two institutions. As Rijiju takes on his new role in the Ministry of Earth Sciences, his focus remains on fulfilling the responsibilities assigned to him and continuing to serve under the guidance of Prime Minister Modi.
As political developments unfold and the nation prepares for the upcoming Lok Sabha elections, the attention will shift toward Meghwal's tenure as the new Law Minister. The role of the judiciary and its relationship with the government will undoubtedly be closely observed, with both sides likely aiming to maintain a harmonious balance of power and cooperation.