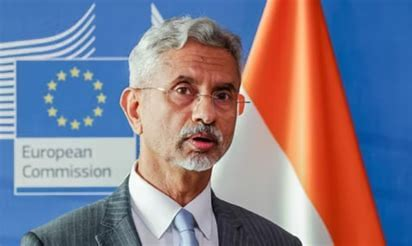 India Cites EU Council Regulation 833/2014 to Justify its Actions
India's External Affairs Minister, Dr. S. Jaishankar, has defended India's practice of reselling Russian oil as refined fuels in response to the European Union (EU) envoy's recent call for a crackdown on such activities. The EU's chief diplomat, Josep Borrell, had expressed concerns about India reselling Russian crude oil as refined products, including diesel, into Europe, amid efforts by Western nations to tighten sanctions on Moscow's energy sector.
In a statement countering Borrell's remarks, Minister Jaishankar highlighted that India's purchase of Russian oil was a normal practice. He emphasized that the EU Council regulations, specifically Regulation 833/2014, should be examined, as they acknowledge that Russian crude undergoes substantial transformation in a third country and is no longer considered Russian.
Minister Jaishankar urged the EU to review Regulation 833/2014 and its provisions, which recognize that the refining process significantly alters the nature of Russian crude oil. The regulation categorizes refined products made from Russian crude in a third country as distinct from Russian oil. Therefore, India argues that its reselling of refined fuels derived from Russian oil is in accordance with existing EU regulations.
The EU envoy's concern stems from Western nations' collective efforts to impose stricter sanctions on Russia's energy sector. These sanctions aim to exert pressure on Russia for its actions in various geopolitical matters. However, India maintains that its reselling of refined products falls within the established legal framework and should not be subject to additional scrutiny or sanctions.
The issue highlights a difference in interpretation between India and the EU regarding the treatment of refined fuels derived from Russian crude oil. While the EU envoy suggests a need for stricter control over such products, India emphasizes that its actions comply with existing EU regulations.
The reselling of Russian oil as refined fuels has been a regular practice for India, which purchases crude oil from Russia and processes it into various refined products before exporting them. India has a robust refining sector and is a major player in the global energy market. The country's refining capabilities allow it to process and export a wide range of petroleum products, including diesel, gasoline, and other refined fuels.
India's defense of its activities aligns with its goal of maintaining energy security and promoting economic growth. Reselling refined products derived from Russian crude oil contributes to India's energy requirements and strengthens its position as a significant player in the global energy trade.
As the debate continues, it is essential for both India and the EU to engage in constructive dialogue to address the concerns raised by the EU envoy while considering the provisions of existing EU regulations. Finding a mutually agreeable solution that respects both parties' interests will be crucial in resolving this matter.
Meanwhile, India remains committed to adhering to international regulations and norms while engaging in energy trade and maintaining strong diplomatic ties with its global partners. The country reiterates its stance that its reselling of Russian oil as refined fuels is in line with prevailing EU regulations and should not be subject to unwarranted sanctions or restrictions.
The outcome of the discussions between India and the EU will have implications not only for their bilateral relations but also for the broader global energy market. Resolving this issue amicably will help foster stability, transparency, and cooperation in the energy sector, benefiting all parties involved.