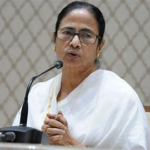 Kolkata—Congress leader of the Lok Sabha, Adhir Ranjan Chowdhury, announced on Tuesday that the party would contest against the Trinamool Congress (TMC) on West Bengal Chief Minister Mamata Banerjee's home turf in the 2024 Lok Sabha elections. This declaration came just a day after Mamata Banerjee expressed her willingness to collaborate with Congress on seats where the party holds a significant presence.
However, Mamata Banerjee had added a crucial condition to her statement. She insisted that the Congress reciprocate and support other parties where they are strong. This condition raised speculations of a potential alliance between Mamata's Trinamool Congress and Congress for the upcoming elections. It is worth noting that in the previous assembly election, the Congress had formed a coalition with the Left party in West Bengal.
In an interview with ThePrint, Adhir Ranjan Chowdhury stated, "Mamata Banerjee has realised after the Congress' victory in Karnataka that she cannot move forward without an understanding with the Congress." He further highlighted the fact that Mamata Banerjee did not appeal to the people of Karnataka to support the Congress against the Bharatiya Janata Party (BJP) during the elections there. Chowdhury claimed that Mamata only campaigns for anti-BJP parties in states like Uttar Pradesh and Bihar, but she did not go to Karnataka because the Congress was fighting there. He suggested that Mamata's realisation about the importance of Congress support emerged after seeing the results in Karnataka.
Adhir Ranjan Chowdhury also pointed out that the Congress recently defeated the TMC and secured the Sagardighi assembly seat in a bypoll held in Bengal. He asserted that the Congress has been making substantial gains in the state, further emphasising the party's determination to continue its fight against the TMC in the upcoming Lok Sabha elections.
The political circles in West Bengal are closely observing the evolving dynamics between the Trinamool Congress and Congress. Mamata Banerjee's indication of collaboration with Congress has raised expectations of a potential alliance, which could significantly impact the electoral landscape in the state. As the 2024 Lok Sabha elections draw closer, it remains to be seen how these political developments will unfold and whether the two parties will reach a consensus on their electoral strategies.
It is important to note that West Bengal holds immense political significance in national politics, and any alliance or opposition formed in the state can have far-reaching consequences. With the TMC currently holding power in West Bengal and Congress determined to make its presence felt, the upcoming elections in the state are poised to be highly competitive and closely contested.
The political scenario in West Bengal is expected to witness further twists and turns as various parties strategize and negotiate alliances to secure their respective interests. The battle for West Bengal in the 2024 Lok Sabha elections promises to be a captivating spectacle, with the TMC, Congress, and other political players vying for supremacy in this crucial battleground state.