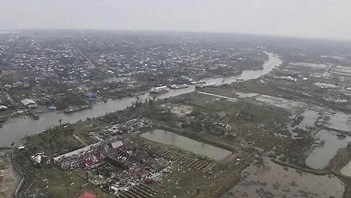 Myanmar has been struck by Cyclone Mocha, a devastating storm that made landfall on Sunday, causing widespread destruction and claiming numerous lives. The death toll currently stands at 145, according to Myanmar's military junta, with fears that the actual number of victims could be much higher. Most of the casualties are from the persecuted Rohingya minority, a community that has long faced discrimination and hardships in the country.
The cyclone inflicted the greatest damage on Myanmar's western Rakhine state, while parts of neighbouring Bangladesh also experienced its destructive force. The military government has dismissed media reports of up to 400 deaths as false, but it is difficult to independently verify the exact figure. Local leaders near the Rakhine state capital of Sittwe have reported over 200 Rohingya deaths in their areas alone, with the counting process still underway.
Rakhine state is home to hundreds of thousands of Rohingya refugees who live in overcrowded displacement camps, having fled ethnic conflict in Myanmar over the years. The storm surge caused severe damage to their vulnerable homes situated on low-lying land. The Rohingya, despite living in Myanmar for generations, are marginalized and denied citizenship, adequate healthcare, and freedom of movement outside their townships.
On the Bangladeshi side of the border, no casualties have been reported, including in the sprawling Rohingya refugee camps that accommodate nearly a million people.
The United Nations World Food Program has highlighted the urgent need for assistance in Myanmar, stating that at least 800,000 people require emergency food aid and other forms of support in the aftermath of Cyclone Mocha. The cyclone, the most destructive in Myanmar in at least a decade, caused flash floods, communication disruptions, and power outages.
The military junta has initiated aid efforts, with naval ships and the air force delivering thousands of bags of rice. Additionally, electricians, firefighters, and rescue workers have been deployed across Rakhine. Several countries, including India, Japan, Britain, and the United States, have pledged assistance. Indian navy ships carrying essential supplies have already arrived in Yangon, and more aid is on its way.
This disaster comes at a time when Myanmar is already grappling with the military administration's rule, which seized power in 2021. The Rohingya community has previously suffered persecution, including a brutal crackdown in 2017 that led to mass displacement. The current government is engaged in conflict with armed resistance forces opposing military rule in various parts of the country.
Cyclone Mocha surpasses the devastation caused by Cyclone Nargis in 2008, which claimed the lives of at least 138,000 people in the Irrawaddy Delta. Criticism was directed at the previous military government for delaying the acceptance of outside aid following Cyclone Nargis.
While local officials claim that there are no restrictions on local or international organizations providing aid this time, these statements cannot be independently verified. The affected communities are in desperate need of immediate assistance and support to recover from the destruction wrought by Cyclone Mocha.