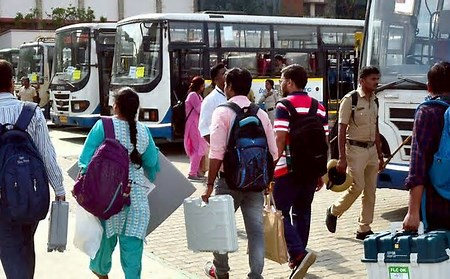 The Indian National Congress has raised questions over the Bharatiya Janata Party's (BJP) recent move of sending people from Goa to Karnataka on buses. The opposition party has raised concerns over the BJP's intentions behind this move and has demanded an explanation from the ruling party.
According to reports, the BJP had arranged for several buses to transport people from Goa to Karnataka. While the reason behind this move is still unclear, the Congress party has alleged that it could be an attempt to influence the upcoming assembly elections in Karnataka.
The Congress has accused the BJP of using unfair means to win elections and has demanded that the Election Commission of India take action against the ruling party. The opposition party has also called for an investigation into the matter.
BJP REACTS TO THE ALLEGATIONS
Reacting to the allegations, BJP spokespersons have denied any wrongdoing and have stated that the buses were arranged to help people who were stranded in Goa due to the COVID-19 pandemic and were unable to return to their homes in Karnataka.
The Election Commission of India has stated that it will look into the matter and take appropriate action if any violation of the Model Code of Conduct is found.
This move by the BJP has further escalated the ongoing political tensions between the two parties in the run-up to the assembly elections in Karnataka. The state has traditionally been a stronghold for the BJP, and the ruling party is hoping to retain power in the upcoming elections.
The Congress, on the other hand, is looking to make a comeback in the state and has been trying to woo voters by highlighting issues such as unemployment, inflation, and the handling of the COVID-19 pandemic.
As the election campaign heats up in Karnataka, it remains to be seen how this latest controversy will impact the electoral prospects of the BJP and the Congress.