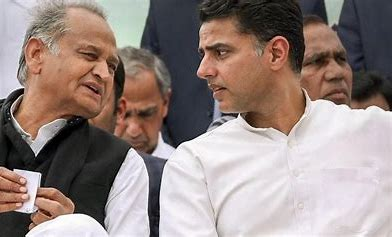 Ajmer, Rajasthan – Tensions escalated between supporters of Rajasthan Chief Minister Ashok Gehlot and his political rival Sachin Pilot as a scuffle broke out during a feedback meeting with party workers in Ajmer. The incident occurred at a venue in the Vaishali Nagar area of the city, just prior to a scheduled meeting chaired by Amrita Dhawan, the All India Congress Committee's (AICC) Rajasthan co-incharge.
The altercation reportedly stemmed from a dispute over seating arrangements between the two factions. According to Karan Singh, the Station House Officer (SHO) of Christianganj Police Station, the supporters of both leaders began exchanging heated words, which soon escalated into a physical confrontation.
"It was an office bearers meeting where supporters of Ajmer Saras Dairy Chairman Ramchandra Chaudhary and RTDC Chairman Dharmendra Rathore had come. They started shouting slogans against each other, which led to a scuffle between them," explained Vijay Jain, the Congress city president.
Prompt police intervention managed to restore order and pacify the protestors. Fortunately, no significant injuries were reported as a result of the clash, as confirmed by SHO Karan Singh.
The clash highlights the deepening divide within the Rajasthan Congress party, primarily between Ashok Gehlot and Sachin Pilot. Sachin Pilot, who has been vocal about alleged corruption during the previous Bharatiya Janata Party (BJP) regime in the state, has raised his dissenting voice against Chief Minister Gehlot, demanding action against the accused.
In addition to calling for a high-level probe into corruption, Pilot has put forth two other demands. He has called for the disbandment and reconstitution of the Rajasthan Public Service Commission (RPSC), expressing concerns about its functioning. Furthermore, he has demanded compensation for individuals adversely affected by the cancellation of government recruitment exams due to paper leaks.
The clash between supporters of Gehlot and Pilot reflects the simmering tensions within the Rajasthan Congress, which have been brewing for some time. The party leadership faces the challenging task of reconciling the differences between the two factions to maintain party unity and work towards a common goal.
As the situation unfolds, political observers are closely watching the developments within the Rajasthan Congress, as it could have repercussions on the state's political landscape and the upcoming elections.