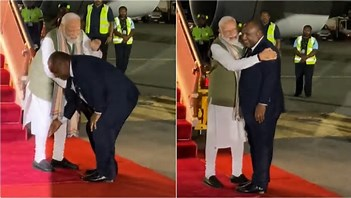 Port Moresby, Papua New Guinea – In a historic visit, Indian Prime Minister Narendra Modi received a warm and traditional welcome upon his arrival in Papua New Guinea as part of his three-nation tour. Prime Minister James Marape of Papua New Guinea extended a heartfelt gesture by touching PM Modi's feet, a traditional sign of respect in Indian culture.
The meeting between the two leaders was filled with warmth and camaraderie. Following the touching of feet, both leaders embraced each other, symbolizing the strong bond between their nations. The grand welcome continued as PM Modi was introduced to other high-ranking officials, solidifying the diplomatic ties between India and Papua New Guinea.
This visit marked a significant milestone, as it was the first-ever visit by an Indian prime minister to Papua New Guinea. PM Modi's trip comes on the heels of his successful visit to Japan for the G7 summit, further highlighting India's commitment to strengthening relationships with key partners in the Asia-Pacific region.
Expressing his gratitude, Prime Minister Modi tweeted, "After a successful visit to Japan, PM @narendramodi emplanes for Papua New Guinea, for the second leg of his three-nation tour." The Ministry of External Affairs also acknowledged the importance of this visit, emphasizing the significance of the bilateral discussions and collaborations that would take place during the trip.
During his time in Papua New Guinea, Prime Minister Modi hosted the third summit of the Forum for India–Pacific Islands Cooperation (FIPIC) jointly with Prime Minister Marape. This summit brought together leaders from all 14 Pacific Island Countries (PIC), strengthening ties and fostering regional cooperation.
"I am grateful that all 14 Pacific Island Countries (PIC) have accepted the invitation to attend this important summit (FIPIC)," stated PM Modi prior to the event. The summit provided an opportunity for leaders to engage in fruitful discussions on a range of issues, including trade, investment, climate change, and maritime security.
Adding to the enthusiasm surrounding PM Modi's visit, the Indian diaspora in Papua New Guinea showcased their excitement by giving him a grand reception. Members of the diaspora were seen cheering and taking selfies with the prime minister, highlighting the strong cultural connection between the two nations.
Prime Minister Modi's visit to Papua New Guinea has undoubtedly elevated the diplomatic relationship between India and the Pacific Island nation. It has set the stage for further collaborations, mutual understanding, and enhanced cooperation in areas of common interest, fostering a shared vision for a prosperous future.
As the visit draws to a close, the warm welcome and memorable interactions between the two leaders will serve as a foundation for stronger bilateral ties and continued engagement in the years to come. The significance of this visit extends beyond the borders of both nations, illustrating the growing importance of the Indo-Pacific region in the global arena.