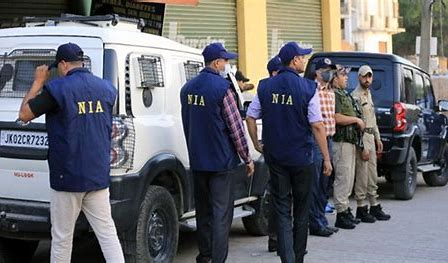 New Delhi: The National Investigation Agency (NIA) made significant breakthroughs today, arresting three individuals in connection with multi-state raids conducted on Wednesday. The raids were part of an ongoing investigation into the nexus between terrorists, gangsters, and drug dealers. The arrests took place in Moga, Punjab; Bhiwani, Haryana; and Delhi.
Under the coordination of local police, NIA sleuths began their operations at 5 a.m., simultaneously targeting over 100 locations across six states. The primary focus of the investigation is to unravel the intricate network that connects these criminal elements, which pose a serious threat to national security.
In Karnal, the NIA team raided the residence of Gurtej Singh Khalsa, chairman of the district gatka committee, located in Sector 13. During a three-hour-long questioning session, Khalsa was probed regarding foreign funding. The investigators were particularly interested in his alleged links to Amritpal Singh, the chief of Waris Punjab De, who was recently arrested by the Punjab Police and is currently detained in an Assam jail. After completing their inquiry, the NIA team left Khalsa's house.
Meanwhile, in Kurukshetra, the NIA conducted a raid near Umri village at a house reportedly owned by a prisoner named Ajay Sunny, also known as Lefty. Sunny is believed to have associations with the notorious Bambiha gang and was previously imprisoned in Himachal Pradesh for his involvement in a murder case.
The NIA's operations have shed light on the wide-ranging connections among terrorists, gangsters, and drug dealers, emphasizing the urgent need to dismantle their networks. By conducting these raids and making arrests, the agency aims to disrupt the flow of funds, weaponry, and narcotics that fuel their activities.
The investigation remains ongoing, with the NIA leaving no stone unturned to identify and apprehend all individuals involved in this dangerous nexus. The agency is working in close collaboration with state police forces, intelligence agencies, and international counterparts to gather comprehensive evidence against the perpetrators and ensure that they face the full force of the law.
The NIA's resolute actions send a strong message that the Indian government is committed to safeguarding its citizens from the threats posed by terrorism, organized crime, and drug trafficking. The agency's efforts are a testament to its dedication in maintaining national security and upholding the rule of law.
As the investigation progresses, the NIA is likely to uncover further crucial information, leading to additional arrests and measures to dismantle this nefarious nexus. The public is encouraged to remain vigilant and cooperate with law enforcement agencies to ensure a safer and secure society for all.