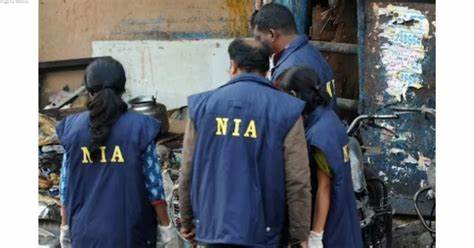 In a major development in the Thane fake currency case, the National Investigation Agency (NIA) has arrested another suspect who was found in possession of 12 swords and incriminating materials. The accused is believed to have links to the seizure of high-quality fake Indian currency notes that were recovered in Thane earlier this year.
According to sources, the suspect was apprehended by the NIA on Wednesday from a remote location in Thane district. During the search operation, the investigators found 12 swords along with several other materials that were allegedly used in the production and distribution of the counterfeit currency.
The accused, identified as Raju Singh, was produced before a local court on Thursday and remanded to NIA custody for further interrogation. The agency has stated that Singh is a key member of the fake currency racket that has been operating in Thane and other parts of the country for several years.
The NIA had earlier arrested several other suspects in connection with the case, including two prime accused who were allegedly involved in the printing and distribution of the fake notes. The agency had also seized a large quantity of counterfeit currency, printing equipment, and other incriminating materials during raids conducted in various parts of the country.
The Thane fake currency case has been under investigation for several months, and the NIA has been working closely with other law enforcement agencies to identify and arrest all those involved in the racket. The agency has urged the public to remain vigilant and report any suspicious activities related to counterfeit currency.
The arrest of Raju Singh is expected to provide further leads to the NIA, which is determined to dismantle the entire network of fake currency racketeers operating in the country. The agency has assured that it will leave no stone unturned in its efforts to ensure that those responsible for this illegal activity are brought to justice.
The accused, Md Fayaaz Shikilkar, was taken into custody after 12 sharp-edged swords and incriminating materials, linking him to the seizure of high-quality fake Indian currency notes (FICN), were found in his possession. The NIA's investigation showed that the accused was in touch with the D-company for the racket.
Materials recovered from the houses and offices of the accused and the suspects during the searches at six locations on Wednesday led the anti-terror agency to 33-year-old Mohammad Fayaaz, a resident of Mumbai.
Two people, identified as Riyaz and Nasir, also residents of Mumbai, are currently in judicial custody.
The Thane City Police originally registered a case on November 18, 2021, under relevant sections of the Indian Penal Code and the Unlawful Activities (Prevention) Act, 1967. The police had chargesheeted the two in the profile case, which was taken over by the NIA, which then filed a fresh case on February 7, 2023.