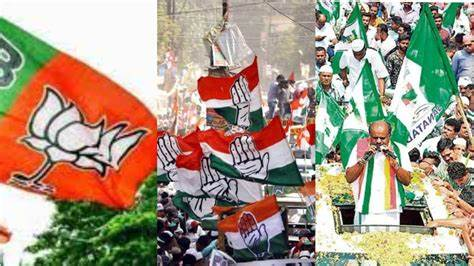 Bengaluru, May 11, 2023: Karnataka has recorded a turnout of 72.68% in the assembly polls held on May 10, 2023. The polling was conducted in a peaceful manner across the state, with no reports of violence or disturbances.
The Election Commission of Karnataka announced the voter turnout on Tuesday evening, stating that the polling percentage was higher than the turnout in the 2018 assembly elections, which recorded a turnout of 72.63%. Banglore with its 28 constituencies recorded as 54.51% turnout despite all the campaigning.
The state witnessed a three-cornered contest between the ruling Bharatiya Janata Party (BJP), the Congress party, and the Janata Dal (Secular) (JD(S)). A total of 2,283 candidates were in the fray for the 224-member assembly.
The BJP, which had swept to power in the state in the 2018 assembly elections, is hoping to retain power on the back of its performance in the last five years. The Congress party, which had ruled the state for five years before the BJP came to power, is looking to make a comeback. With its intensive campaigning it has done this year.
The JD(S), which had played kingmaker in the 2018 assembly elections, is looking to improve its tally and emerge as a decisive force in the state.
The high voter turnout in the state is being seen as a positive sign for democracy. The Election Commission had taken several measures to ensure free and fair polls, including the deployment of adequate security personnel, the use of electronic voting machines, and the introduction of Voter Verifiable Paper Audit Trail (VVPAT) machines.
The counting of votes will take place on May 15, and the results are expected to be declared by the evening. The outcome of the polls will have significant implications for the state's political landscape and will determine the future course of the state's development. Though media channels have started to make predictions,but nothing can be said as to who will be the winner yet .
In conclusion, the high voter turnout in Karnataka is a testament to the state's commitment to democracy and the electoral process. It is now up to the political parties to respect the mandate of the people and work towards the betterment of the state.