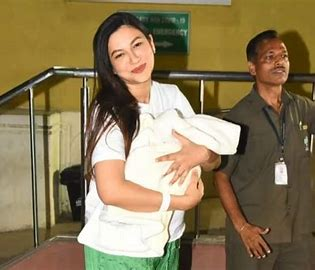 Former Bigg Boss winner Gauhar Khan and her husband, Zaid Darbar, have been blessed with a baby boy. The couple welcomed their first child on May 12, 2023, and have been in the hospital since then. After a couple of days of rest and recovery, Gauhar and her baby boy were discharged from the hospital on Friday evening.
The happy couple was seen walking out of the hospital, with Gauahar holding their newborn baby in her arms. Gauahar looked stunning as she stepped out, radiating with happiness and good health. Zaid Darbar was seen by her side, looking equally thrilled.
The couple was greeted by a swarm of paparazzi, eager to capture a glimpse of the adorable baby boy. Gauahar and Zaid were happy to oblige the photographers and showed off their bundle of joy to the cameras. The proud parents expressed their gratitude towards the media and their fans for their support and well-wishes throughout their journey.
Gauahar Khan was dressed in a comfortable, loose-fitting outfit, and her husband, Zaid, was sporting a casual look. Both of them had big smiles on their faces, clearly overjoyed by the arrival of their little one. The couple posed for the cameras and happily answered a few questions from the reporters.
In a brief conversation with the media, Gauahar expressed her gratitude for the support she had received from everyone. "We are overwhelmed with the love and support that we have received from our fans and well-wishers. Thank you so much for your kind wishes and blessings. Our little bundle of joy is doing great, and we couldn't be happier."
The couple thanked the hospital staff and doctors for their excellent care during the delivery and postpartum period. They also urged everyone to follow all the necessary precautions during the ongoing pandemic and stay safe.
Overall, Gauhar Khan and Zaid Darbar's exit from the hospital with their baby boy was a moment of joy and celebration for their fans and well-wishers. The couple's love and happiness were evident in their smiles, and they looked forward to starting a new chapter in their lives as parents.