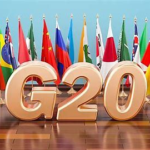 Srinagar, India – As the G-20 Working Group meet on Tourism is set to commence in Srinagar, several key countries have announced their non-participation, including China, Turkey, Saudi Arabia, and Egypt, casting a shadow on the event's success. With just days to go before the meeting, the absence of these nations raises questions about the political implications behind their decision.
The Union Tourism Secretary, Arvind Singh, informed the media in Delhi that a total of 60 international delegates have registered for the third working group meeting, scheduled from May 22 to May 24. Among the G-20 member countries, 17 have confirmed their participation, but China, Turkey, and Saudi Arabia are yet to register. Egypt, a special invitee this year, has also not confirmed attendance.
China, which considers disputed territory in India, has firmly opposed holding any G-20 meetings in such regions and reiterated its stance by declining to participate. Chinese Foreign Ministry spokesperson Wang Wenbin stated, "China is firmly opposed to holding any kind of G-20 meetings in disputed territory, and will not attend such meetings." Previously, China had skipped G-20 meetings in Arunachal Pradesh and Ladakh, both of which it considers disputed territories.
Turkey, Saudi Arabia, and Egypt, all members of the Organisation for Islamic Cooperation (OIC), have been critical of India's changes in Jammu and Kashmir. Their decision not to attend the event in Srinagar is believed to have diplomatic undertones. On the other hand, other OIC members, including Bangladesh, Indonesia, Oman, and the UAE, have confirmed their participation, indicating a mixed response from OIC countries.
The Indian Ministry of External Affairs did not respond to requests for comments on the non-participation of key G-20 members and an invitee. However, the Indian mission in Geneva had strongly rejected the statement by UN Special Rapporteur on Minority Issues, Fernand de Varennes, who criticized the event as an effort to "normalise" alleged human rights violations and the "denial of democratic and other rights."
Preparations for the high-profile event in Srinagar are nearly complete, with the venue, Sher I Kashmir Convention Centre, fully ready to welcome the delegates. All roads leading from Srinagar airport to the venue have been freshly painted, reflecting the enthusiasm of the organizers. Elaborate multi-tier security arrangements have been put in place, and the delegates will be given proper protocol and accommodation in high-end hotels along the picturesque Dal Lake.
Apart from the working group meetings, the Tourism Ministry has planned events to promote film tourism among international and domestic crews. Industry stakeholders will provide suggestions on encouraging filmmakers to shoot in various locations across the country, and a draft 'National Strategy on Film Tourism' will be unveiled during the meeting. To showcase local products, delegates will receive souvenirs such as papier mache boxes, saffron from Pampore, kawa cups, brass spoons, and walnuts from Anantnag, Shopian, and Kupwara.
Despite the non-participation of some key countries, the Indian government remains committed to hosting a successful G-20 meet in Srinagar. The event aims to promote tourism and foster international collaboration in the industry, highlighting the rich cultural heritage and natural beauty of the region.
As the G-20 Tourism meet approaches, the absence of China, Turkey, Saudi Arabia, and Egypt raises questions about the diplomatic dynamics surrounding the event. The Indian government, however, remains focused on showcasing the potential of tourism in the region and fostering fruitful