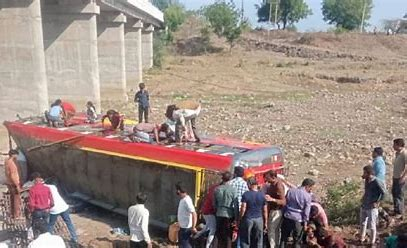 Khargone, Madhya Pradesh – At least 15 people were killed and 25 others were injured after a bus fell off a bridge near the town of Khargone in Madhya Pradesh on Sunday.
The bus was reportedly carrying passengers from Indore to Khargone when the accident occurred. The cause of the accident is still under investigation, but initial reports suggest that the driver lost control of the vehicle and it fell off the bridge.
Emergency services, including ambulances and fire engines, rushed to the scene to rescue the injured and recover the bodies of the deceased. The injured were taken to nearby hospitals for treatment, and some of them are said to be in critical condition.
According to local authorities, the accident could have been much worse if the bus had not fallen into the water, as the impact would have been much more severe. However, the strong current in the river made it difficult for rescuers to reach the bus and retrieve the passengers.
The incident has once again highlighted the need for better infrastructure and safety measures on India's roads. Accidents like this are all too common in the country, and many are caused by poor road conditions, inadequate driver training, and overcrowded vehicles.
Madhya Pradesh Chief Minister Shivraj Singh Chouhan has expressed his condolences to the families of the victims and has ordered an inquiry into the incident. He has also announced compensation for the families of those who lost their lives in the accident.
The local authorities have urged the public to be cautious while traveling on the roads and to report any unsafe driving practices to the authorities. They have also promised to take steps to improve road safety in the region.
The investigation into the Khargone bus accident is ongoing, and more information is expected to be released in the coming days.