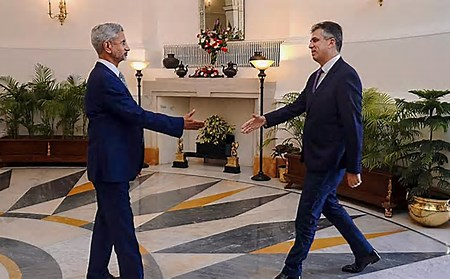 In a surprising announcement, Israeli Foreign Minister Eli Cohen revealed that Arab trains will be used to transport Indian goods to Israeli ports. The move is expected to boost trade between India and Israel and strengthen diplomatic ties between the two countries.
Mr. Cohen announced support for increasing the number of Indian employees in Israel and urged for an early conclusion of a Free Trade Agreement (FTA) between New Delhi and Tel Aviv
"Our vision is that Israel, the Gulf Arab countries and India is the gate from the east to the west. The trade that will come from India will go to some Arab port and from there by train till Haifa port in Israel and from there to the markets in Europe," said Mr. Cohen
According to Cohen, the trains will travel from India through Saudi Arabia, Jordan, and the Palestinian territories before reaching Israeli ports. The initiative is part of Israel's ongoing efforts to normalise relations with its Arab neighbours and increase economic cooperation in the region.
The decision to use Arab trains to transport Indian goods is a significant development for the region. It marks the first time that Arab countries have allowed Israeli-bound trains to pass through their territories.
BENEFITS FOR ALL
Cohen stated that the move would bring economic benefits to all parties involved. Israel would benefit from increased trade with India, while the Arab countries involved would gain revenue from the transportation of goods.
The decision to use Arab trains to transport Indian goods is also seen as a positive step towards peace and cooperation in the Middle East. It is hoped that increased economic ties between countries in the region will lead to greater understanding and collaboration in other areas.
The move comes as part of a wider effort by Israel to strengthen its economic ties with India. The two countries have been working together to develop closer economic and strategic ties in recent years, with Israel becoming a major exporter of military technology to India.
The use of Arab trains to transport Indian goods is expected to begin in the coming months, with the first shipments expected to arrive in Israeli ports in the second half of the year. The initiative is being seen as a positive development for the region and a step towards greater cooperation and understanding between countries in the Middle East.