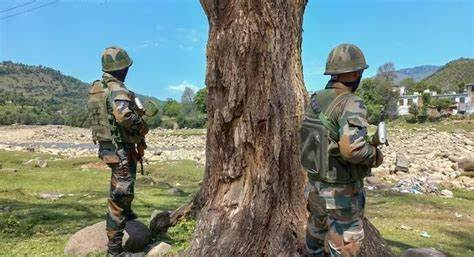 RAJOURI, May 8th, 2023 – The security forces in Rajouri are currently engaged in a large-scale anti-terror operation, which has been ongoing for the past few days. The operation was launched in response to intelligence inputs suggesting the presence of terrorists in the region.
According to sources, the operation is being conducted by a joint team of the Indian Army, the Central Reserve Police Force (CRPF), and the Jammu and Kashmir Police. The teams are being led by experienced officers, and are using sophisticated equipment and tactics to flush out the terrorists.
So far, the operation has been successful in neutralizing several terrorists and has also led to the recovery of a large number of arms and ammunition. The security forces have been conducting search and cordon operations in various areas of Rajouri, including remote villages and forests, to ensure that no terrorist is able to escape.
The security forces have also been engaging in intense gun battles with the terrorists, who have been putting up fierce resistance. However, the forces have been able to maintain the upper hand, thanks to their superior training and equipment.
The people of Rajouri have been advised to stay indoors and cooperate with the security forces during the operation. The authorities have also taken steps to ensure that essential services such as healthcare and transportation are not disrupted.
The anti-terror operation is expected to continue for a few more days, as the security forces are determined to root out all terrorists from the region. The authorities have also urged the people of Rajouri to remain vigilant and to report any suspicious activity to the police.
This operation is a clear message to terrorists that their nefarious activities will not be tolerated, and that the security forces will leave no stone unturned in their efforts to maintain peace and order in the region.