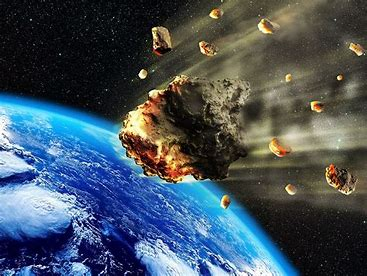 In a cosmic game of chicken, an asteroid the size of the Statue of Liberty is hurtling towards Earth at a staggering 43,200 kmph. Dubbed Asteroid 2023 HP1, this massive space rock is set to have a close encounter with our planet, making space enthusiasts and scientists sit up and take notice.
According to NASA's Center for Near-Earth Object Studies (CNEOS), the asteroid will make its closest approach to Earth at around 3:30 pm EST, passing at a distance of approximately 2.5 million kilometers from our planet. While the distance may seem significant, it is still considered a close call in astronomical terms.
Discovered on April 16, 2023, Asteroid 2023 HP1 is classified as a near-Earth object (NEO) belonging to the Apollo group. Its size is estimated to be between 70 and 156 meters, making it a significant celestial body in our cosmic neighborhood. The asteroid takes 919 days to orbit the Sun, with its farthest point (aphelion) at 414 million kilometers and its nearest point (perihelion) at 139 million kilometers from the Sun.
A Hair-Raising Encounter
On May 8, the asteroid will pass Earth at a relatively close distance of 6.13 million kilometers. While this might sound like a significant gap, it's actually a hair's breadth in cosmic terms. The next close approach of this asteroid to Earth will occur on May 23, 2121, when it will be 7.46 million kilometers away.
The asteroid measures approximately 120 meters in diameter, making it larger than the famous Chelyabinsk meteor that exploded over Russia in 2013, causing widespread damage and injuring hundreds of people.
Scientists have been monitoring the trajectory of 2023 HP1 for several months now, and while they are confident that the asteroid will not hit the Earth, they warn that it is a reminder of the potential threat posed by Near-Earth Objects (NEOs).
"2023 HP1 is a prime example of the need for continued vigilance in monitoring the skies for potentially hazardous asteroids," said Dr. Paul Chodas, director of CNEOS.
While the chances of an asteroid impact are rare, the consequences could be catastrophic. It is essential to continue developing and improving technologies for detecting, tracking, and potentially deflecting asteroids that pose a threat to Earth.
Despite the asteroid's proximity to Earth, it will not be visible to the naked eye, and there is no need for concern or panic. However, this event serves as a reminder of the importance of space exploration and the continued efforts to protect our planet from potential threats from space.