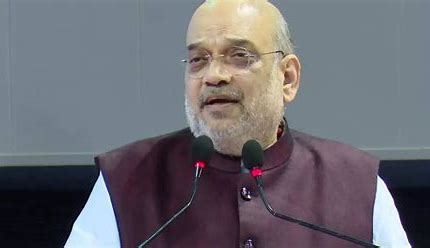 Gandhinagar, Gujarat: Union Minister Amit Shah, on Saturday, inaugurated and laid the foundation stone for various development projects worth Rs 400 crore in Gandhinagar. The event showcased the Bharatiya Janata Party's (BJP) commitment to progress and highlighted the government's dedication to undertaking significant developmental works.
Addressing the gathering, Amit Shah emphasized the BJP's focus on development and expressed his satisfaction with the government's proactive approach. He stated, "People have become accustomed to the government taking responsibility for development projects. They no longer need to complain or request such works." Shah also urged the people of Gandhinagar to support the innovative concept of 'Toy Bank,' where toys will be collected from households and distributed to underprivileged children and Anganwadi centers.
The event, organized by Gandhinagar Mahanagarpalika, took place at the Auditorium Hall of Gandhinagar Civil Hospital. Among the key projects inaugurated was a parking facility for 1700 two-wheelers and 14 other vehicles at the District Shopping Centre in Sector 21. This project, built at a cost of 11 crores, aims to address the growing parking needs of the area.
Additionally, the municipal area's roads in sectors 11, 17, 21, and 22 were upgraded to four-lane roads at a cost of 25 crores. The renovation included the construction of footpaths and water dish channels for effective rainwater drainage. The projects also featured the inauguration of solar systems, including a 865 kW solar system, a 645 kW solar rooftop, and a 220 kW solar tree, with a combined cost of 6.45 crores. These sustainable energy solutions are expected to operate efficiently for the next 25 to 30 years.
Furthermore, the foundation stone was laid for the Railway Overbridge, part of the Railway Gate-Free Gujarat campaign, with an estimated cost of Rs 58.17 crore. This initiative aims to alleviate traffic congestion and enhance connectivity in the region. Other notable projects included lake development at Vavol, costing 12.45 crores, the renovation and construction of dispensaries in Sectors 2, 24, and 29 amounting to 1.09 crores, and the establishment of an advanced facility at the Kakhjeja crematorium at a cost of 4.52 crores.
The event also marked the commencement of planning for staff quarters for officers and employees in Manpa, at an estimated cost of 28 crores. Additionally, garden renovation projects were initiated in Sector 30 and Borij village, totaling 3.88 crores. Renovation works were also planned for gardens in various sectors, including 25, 28, 1, 3, 21, and 23, with a cumulative cost of 5.74 crores.
The development initiatives extended to infrastructure improvements, such as a water distribution station in Charedi, costing 21.35 crores, and road and drinking water pipeline works in Dhodkuva village, estimated at 3.40 crores. Moreover, the construction of compound walls in various sectors will be undertaken at a cost of 4 crores, while a stormwater line will be laid in Sector 26, requiring an investment of 82 crores.
The inauguration and foundation stone-laying ceremony by Union Minister Amit Shah exemplified the BJP's commitment to Gujarat's development and underscored the government's proactive approach to addressing the needs of its constituents. The projects unveiled during this event are expected to significantly contribute to the progress and welfare of the Gandhinagar region, benefiting its residents and enhancing