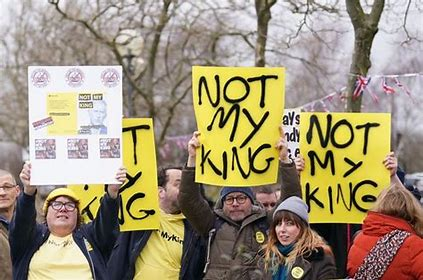 In a surprising turn of events, the UK police have expressed regret over the arrest of anti-monarchy demonstrators in London last week. The move comes after the police faced widespread criticism for what many saw as an overzealous response to peaceful protests.
The demonstrations were held in response to the recent death of Prince Philip, and were organized by a group calling themselves "Republic," which campaigns for the abolition of the monarchy and the establishment of a republic in the UK. However, the protests were met with a heavy police presence, with officers seen forcibly removing and arresting some of the demonstrators.
In a statement issued today, the Metropolitan Police expressed regret for the way in which the arrests were carried out. "We recognize that some of the actions taken by our officers were disproportionate and that this has caused distress to those involved," the statement read. "We deeply regret any harm that was caused, and we are committed to reviewing our procedures to ensure that future demonstrations are policed in a way that is both proportionate and respectful of the right to protest."
The statement was welcomed by Republic, who called for an end to what they described as the "criminalization of peaceful protest." "We are pleased that the police have recognized their mistake, and we hope that this marks a turning point in their approach to policing demonstrations," a spokesperson for the group said.
The incident has once again raised questions about the role of the monarchy in modern Britain, and the extent to which it should be open to criticism and scrutiny. While many Britons continue to support the monarchy, there is growing debate about whether the institution is still relevant in the 21st century, and whether it represents a barrier to true democracy. Especially with the huge event of Coronation of King Charles and the expenditure incurred has yet again turned this into a heated debate.
The police's admission of regret is likely to fuel further debate on these issues, and to lead to increased pressure on the government to address the question of the monarchy's future. Whether any significant change will result remains to be seen, but what is clear is that the debate over the role of the monarchy in modern Britain is far from over.