Sunny Deol Shares Tara Singh Look From Gadar 2: There is a buzz among fans about Sunny Deol's Gadar 2. The actor is in news because of this periodic drama. The film is going to release this year. Meanwhile, now Sunny Deol has shared his Tara Singh look. After this the discussion of the trailer has gained momentum.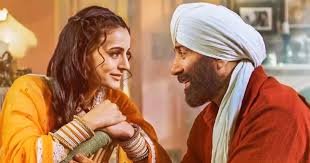 Action in Sunny's Reflection
Sunny Deol has shared a picture from the sets of Gadar 2 on his official Instagram account. Sunny Deol is seen in the look of Tara Singh in the post and looks handsome. In the photo, Sunny is seen in yellow shirt and gray colored turban. Sunny is smiling while looking at the mirror. In the caption of the post, the actor wrote, 'Reflection.'
Crazy fans for Gadar 2
As soon as Sunny Deol shared his Tara Singh look from Gadar 2 , his picture went viral on social media. The actor's picture made fans nostalgic about Gadar. Commenting on the post, he said, "Hindustan Zindabad, I am very excited for Gadar 2, lots of love to you sir." Another user wrote, "Dharam ji and you are the most daring and best actors. Rest all are failures in the entire industry."
Questions raised about the trailer
On this post of Sunny Deol, some fans also asked for an update regarding Gadar 2. Commenting on the post, a user asked, "When is the trailer coming sir?" Whereas, another user said, "There is action in your reflection too sir. Waiting for the teaser of Gadar 2, Hindustan Zindabad."
The film will be released on this day
Gadar Part One came in the year 2001, in which Ameesha Patel was seen in the lead role with Sunny Deol and the love story of both was well liked by the audience. The angle of India and Pakistan will be taken forward in Gadar 2. At the same time, child artist Utkarsh Sharma, who plays his son in the film, will also be seen in an important role. Gadar 2 will hit the theaters on August 11 this year.