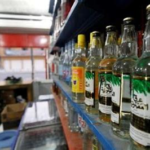 In a heart-wrenching incident, six people have lost their lives and several others have been hospitalised in Tamil Nadu, following the consumption of spurious liquor. Six people hailing from Ekkiyarkuppam near Marakkanam in Villupuram district died on Sunday. In Maduranthagam in Chengalpattu district, two persons died on Friday and a couple died on Sunday, all caused due to illicit liquor consumption, officials said.
Authorities have confirmed that the deaths were a result of the consumption of illicit liquor, which was reportedly being sold in the area. The victims, unknowingly consuming the toxic substance, fell seriously ill shortly after consumption, leading to the tragic loss of lives. As news of the incidents spread, panic and concern have gripped the local community." Currently, more than two dozen people are undergoing treatment and are said to be doing well," they said further. Following the incident, Inspector General of Police (North) N Kannan assured proper actions and noted that all 10 victims possibly consumed spurious liquor with ethanol-methanol substances in it.
"Two spurious liquor incidents have been reported, one in Chengalpattu district and another one in Villupuram district. In Ekkiyarkuppam village under Villupuram district near Marakkanam, yesterday 6 were hospitalised with complaints of Vomiting, eye irritation, vomiting and giddiness. On information, a police team reached the village and admitted ill to the hospital. In this four have died as they didn't respond to the treatment while two are in the Intensive Care Unit. 33 are doing well with treatment," IG said while addressing a press conference at Villupuram on Sunday.
The state government has taken immediate cognizance of the matter and launched a thorough investigation into the production, distribution, and sale of spurious liquor. Authorities are determined to identify those responsible for this grave crime to bring them to justice and prevent such tragic incidents from occurring in the future.
Spurious liquor-related deaths have been a persistent problem in many parts of India, despite strict regulations and periodic crackdowns by authorities. These incidents shed light on the urgent need to address the issue of illegal liquor production and the associated dangers it poses to public health and safety.
As investigations continue, it is expected that the authorities will uncover valuable information regarding the source and distribution network of the spurious liquor. The government's commitment to ensuring the safety and well-being of its citizens remains resolute, and measures will be taken to prevent such tragedies from occurring in the future.