SpaceX has launched two satellites for the US Space Force on their Falcon Heavy rocket. Later this week, they will also launch a Falcon 9 rocket, to launch 51 Starlink broadband satellites into low. The rocket's launch was delayed by a day. Codenamed USSF-67, the mission was earlier scheduled for a launch on Saturday, instead of the actual launch time of Sunday, 5:56PM EST
The Falcon Heavy rocket was powered by 27 Merlin engines, and generated over 5 million pounds of force during its flight. The rocket was launched from the Kennedy Space Center's pad 39A at 5:56 pm (EST) that proceeded east over the Atlantic Ocean. The first of the two satellites to be launched was the Continuous Broadcast Augmenting SATCOM 2 or CBAS-2 satellite, which was sent into geostationary orbit over 35,000 kilometres above Earth.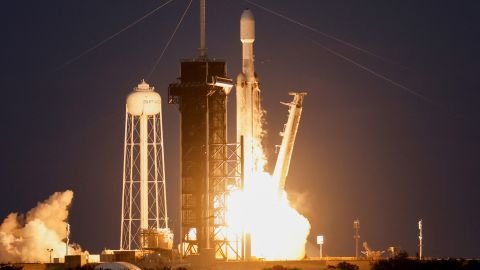 Along with that, there was also a rideshare spacecraft called Long Duration Propulsive ESPA (LDPE)-3A, a payload adapter that can hold up to six small satellites. LDPE-3A will carry five Space Force payloads on USSF-67. Among them are two operational prototypes for enhanced situational awareness and an operational prototype crypto/interface encryption payload providing secure space-to-ground communications capability, as per a statement released by Space Force.
This launch was the fifth overall for the Falcon Heavy rocket. The burly rocket debuted in February 2018 with a memorable test flight that sent SpaceX founder and CEO Elon Musk's Tesla Roadster into orbit around the sun, with a spacesuit-clad mannequin named Starman in the driver's seat. The Falcon Heavy consists of three modified SpaceX Falcon 9 first stages, which are strapped together. The central booster is topped with a payload-carrying upper stage.
As with Falcon 9, the first stages of Falcon Heavy are reusable. According to Space Force authorities, the two side boosters for USSF-67 will launch for the second flight; they previously flew on USSF-44. The core booster for the USSF-67 has never flown before.
USSF-67 is one of SpaceX's several projects this week. On January 19, the business also intends to use a Falcon 9 to launch 51 of its Starlink broadband satellites into low-Earth orbit.