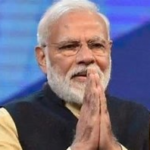 In an interview with Nikkei Asia ahead of the G-7 Summit in Japan, Prime Minister Narendra Modi expressed India's desire for normal bilateral relations with Pakistan. However, he emphasized that it is incumbent upon Pakistan to create a conducive environment free from terrorism and hostilities.
PM Modi stressed that the onus is on Pakistan to take necessary steps in this regard. India has consistently raised concerns about Pakistan's support for cross-border terrorism and has maintained that terrorism and talks cannot go hand in hand.
Arriving in Hiroshima for the G-7 Summit, PM Modi highlighted India's commitment to protecting its sovereignty and dignity in the face of the standoff with China in Eastern Ladakh in 2020. He emphasized that peace and tranquility in border areas are essential for fostering normal bilateral ties with China. PM Modi stated that the future development of the India-China relationship should be based on mutual respect, sensitivity, and interests, adding that the normalization of ties would benefit the wider region and the world.
Addressing the Russia-Ukraine conflict, the Prime Minister made it clear that India stands on the side of peace and will remain firm in this position. He affirmed India's commitment to supporting those facing challenges in meeting their basic needs and advocated for cooperation and collaboration rather than conflict.
PM Modi highlighted the growing convergence of political, strategic, security, and economic interests between India and Japan, noting that the shared values of democracy, freedom, and the rule of law have naturally brought the two nations closer.
During the G-7 Summit, PM Modi pledged to amplify the voices and concerns of the Global South nations and foster synergy with the broader Group of 20 (G20). India, as the current G20 presidency holder, will host the summit later this year. He expressed his eagerness to discuss global changes and challenges in areas such as energy, digital technology, and supply chains, emphasizing India's role as a reliable partner in addressing these issues.
India's participation in the G-7 Summit since 2003 reflects its growing prominence on the global stage. PM Modi's statements underscore India's commitment to regional stability, peaceful coexistence, and its aspiration to contribute to global solutions.
As the G-7 Summit progresses, discussions on various global challenges and opportunities are expected to shape the outcomes and pave the way for enhanced cooperation among the participating nations.