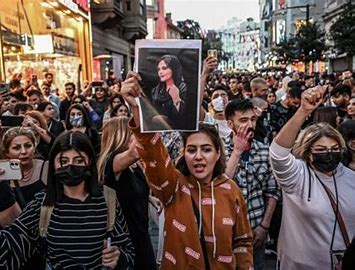 Iran executed three men on Friday who were convicted of killing security force members during protests that were triggered by the death of 22-year-old Mahsa Amini last year. The move has drawn condemnation from Western governments and has raised concerns about human rights violations in the country.
The men, identified as Majid Kazemi, Saleh Mirhashemi, and Saeed Yaghoubi, were found guilty of "moharebeh" or "waging war against God" for their involvement in the shooting deaths of three members of the security forces. The incident occurred during a demonstration that took place in the central city of Isfahan on November 16. The Iranian judiciary announced their execution on its Mizan Online news website.
The protests in Iran began in September 2022 following the death of Mahsa Amini, an Iranian Kurd. Amini had been arrested for allegedly violating the Islamic republic's strict dress code for women. Her death sparked widespread outrage and led to waves of nationwide demonstrations, with protesters calling for greater civil liberties and reforms in the country.
The execution of Kazemi, Mirhashemi, and Yaghoubi has elicited strong reactions from Western governments, who have condemned the move. The international community has expressed concerns about the fairness of their trials and the overall human rights situation in Iran.
Critics argue that the charges of "moharebeh" used to convict the men are vague and open to interpretation, allowing the Iranian authorities to suppress dissent and silence opposition. Human rights organizations have consistently criticized Iran for its use of capital punishment and its limitations on freedom of expression and assembly.
The Iranian government maintains that it was necessary to take action against those who allegedly killed security force members during the protests. They argue that the executions were carried out in accordance with the country's laws and judicial procedures.
The execution of these three men comes at a time when Iran is facing increasing international scrutiny over its human rights record. Calls for accountability and respect for human rights have grown louder, with several countries and human rights organizations urging Iran to uphold its international obligations and protect the rights of its citizens.
As the international community continues to monitor the situation in Iran, the execution of Kazemi, Mirhashemi, and Yaghoubi is likely to further intensify the debate surrounding human rights in the country. The incident underscores the ongoing challenges faced by Iran in balancing the maintenance of its internal security with the protection of individual liberties and human rights.