'Fitter to 30 crore turnover owner'
Erode 'Andavar Lathe Works' – Success story!
Today, even though the real taste of the oil is unique, we are missing out on refined oil packets. It's our duty to give people back to traditional, delicious, quality and healthy hand-made Oil & food items. 'Andavar Lathe Works' has come up with an idea to restore this tradition of healthy lifestyle while also establishing a self-reliant economy in every single villages in our country.
'Andavar Lathe Works' success story.
The Andavar Lathe works is a veteran company with 55 years of excellence in the field of manufacturing and exporting oil mill machines in India. Mr. Raju Kannan, the founder of 'Andavar Lath works', started his career as an ordinary fitter and progressed drastically through his career. He is the perfect example of how to reach pinnacle of life through sheer hard work. He now carries his glory, The Andavar Lathe works with his two sons Mr.Balasubramaniyam and Mr.Shanmugasundaram.
How did the ordinary Fitter become the owner of Multicore Lathe Works?
"Hailing from a farming family in Erode, I started my career as a Tool room helper in 1958 at TANSI, a Tamil Nadu government agency. My first ever learning started with a production of bolt & nut from a Japanese machine erection engineer. With the thirst to progress through my career, I sought the job as a helper at Sakthi Sugars Factory, then at that period the factory was in its late period of construction process.I left the industry after progressing to the highest possible elevation,
'A-grade fitter' with a hefty amount of knowledge. On 4th February 1968, along with my friends, I started 'Andavar Lathe works' on a micro scale near The Erode bus stand with an investment of Rs 30,000. In the beginning, we produced only steel oil-rotary machines to crush & extract groundnut oil. Now we have developed a wide range of machines for the benefit of farmers in the hope that they will be abled to sell their agricultural produces with value addition."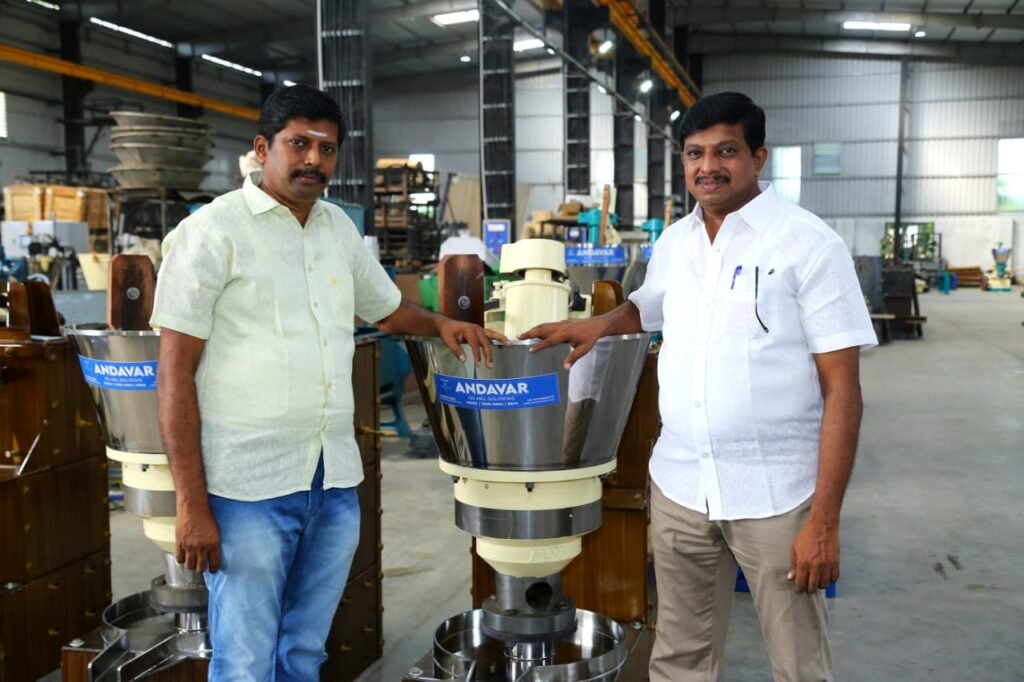 At present, Raju Kannan's sons Mr.Bala Subramaniyam and Mr.Shanmugasundaram are making a continuous effort to revive the self-reliant village economy by introducing various models and varieties of machines for farmers to value add their goods.
"In the early 1995's, oil was produced only using Iron Rotary. Then in those days, The farmers themselves were major producers of oil and sold them directly to the people. But, in the late 95's oil came into mass production. It started to being sold in plastic pouches. The import of oil at a very low price revolutionised the market influencing people to buy these cheaper products. The traditional oil manufacturing techniques were not abled to compete with these prices. Thus our business took a serious hit.
At that time, people were taught that only the Oil that is crystal clear & with no viscosity is of the highest quality. Inadvertently we were forced to use these packeted oil, which was entirely produced with chemicals that are not good for our health and this is only now being medically proven. Our campaign for the past 50 years to help the farmers, had found one another new goal, that is to revive our traditional and ancient chekku ( wooden & steel rotary otherwise called ) oil that is good for health. And after all the struggles, our journey started receiving its well deserved results slowly", says Raju Kannan.
"Generally, it takes a minimum of 2 months for setting up an Oil mill plant. Because of this lengthy process, people did not appreciate this line of business. That's when we realised the shortcomings in our professional machinery manufacturing practice. So, we started studying the solution a lot and came up with a new solution to reduce the time frame for the machine fitting and setups. From 2000 to 2003, a variety of studies have been conducted for this purpose. As a result of our studies, we released the first modern machine in 2003. We made it easy to install it within 2 hours. We went to every village in Tamil Nadu and provided modern machines.
We paved the way for the establishment of these modern oil milling plants in the very smallest space possible, to say a 6 x 6 feet room. Now our machines are running successfully in very many villages in various states," says Raju Kannan and his sons.
The interesting thing here is that there is no wastage in oil production. The remnant of oil extraction, the oil cake, is used as an excellent nutritious feed for livestock. Now they are manufacturing 64 + models of oil rotary machines with various speeds & capacities, and also have other machines like decorticator, cake powder machines, pulverisers (which can grind chilli and other masala items), and oil-filling machines. They have also developed machines for the processing of millet too, namely millet cleaner, husk remover, and millet polisher.
"We Started production with a small lathe machine in 4000sq feet, now spread over 1.5lakh sq feet with complete in-house production facilities like foundry, CNC lathe unit, laser cutting, robot welding, and modern assembly unit. All the parts required for the machines are manufactured in-house production facility to provide high-quality and long-lasting machines to our customers."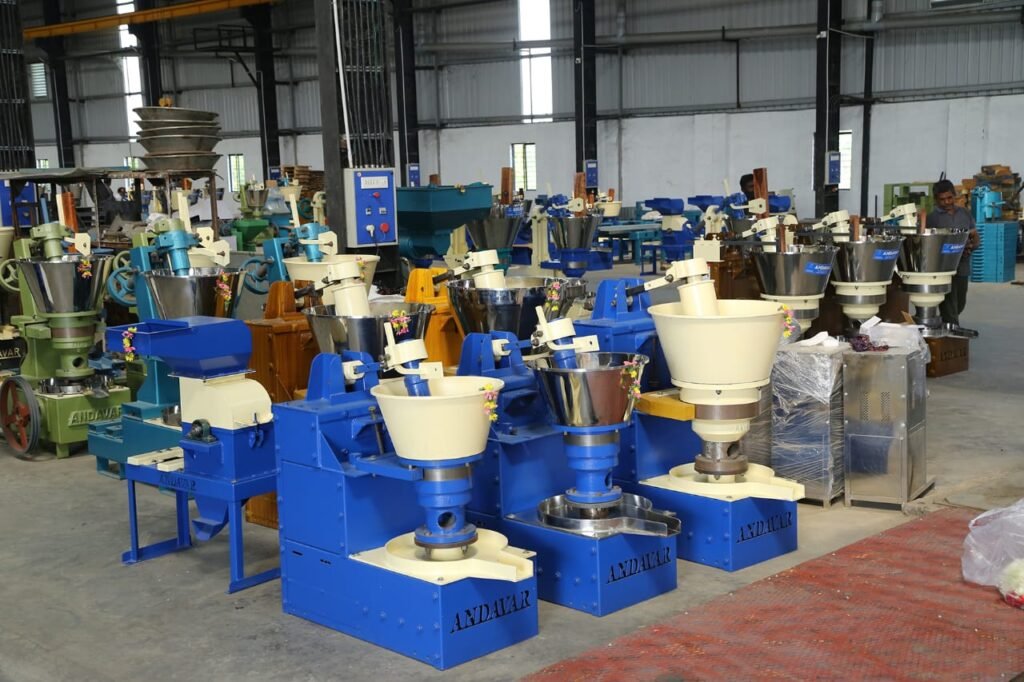 India needs to become self-reliant as far as oil is concerned, this will help villages and farmers to become economically independent. Oil imports should be stopped. For this, The Department of Agriculture, The Horticulture Department, The Department of Field Engineering and The District Industries Centres must come together to work out a joint plan. This will certainly enhance the rural development propagandas such as Women entrepreneurs, young entrepreneurs, and self-help businesses groups. "Creating an oil mill in a village creates direct employment for 3 people and indirectly employs more than 50 people that is the seed or raw material suppliers",says Mr.ShanmugaSundaram. Thus it impress the economy by providing lots of income opportunities in the rural area even for uneducated people. Now Government is offering subsidies to these oil mill machine units and entrepreneurs must use them to develop the rural economy and self-sustainability. "Now, We are willing to provide training, to those who are wish to have this as a business.",says Mr.Bala Subramaniam
"Pure oil is prepared in front of people's eyes, showing them the quality of the groundnut, coconut, mustard, sesame, sunflower, etc. People always prefer to use products of good quality, especially when it comes to food products. Thus this helps people approach these good food items, including chemical-free pure oil. This is our ambitious journey", says the management of Andavar Lathe works.
As a result of our 55 years of hard work, we currently have about 32 thousand customers not only in India but also in 24+ countries. Now, we are exporting around 100+ machines every year to various countries like South Africa, Nigeria, Sri Lanka, Bangladesh, Myanmar, and many more. With this, their turnover has grown to Rs 30 crore per annum.
"Let's build a village economy and recover foreign exchange. Let's reduce imports. And will provide quality natural edible oil to everyone," is our goal.