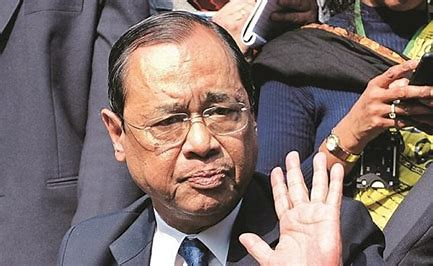 In a recent development, Abhijeet Sharma, the President of Assam Public Works, has filed a defamation case against former Chief Justice of India Ranjan Gogoi and Rupa Publications, the publisher of his autobiography 'Justice for a Judge'. Mr. Sharma has alleged that the book contains misleading and defamatory statements against him, and he has filed a Rs. 1 crore in defamation case.He also filed a petition seeking an ad-interim injunction restraining Gogoi and his publisher from further publishing, distributing or selling any book which has defamatory statements and imputations against him.
The defamation case and the petition for the injunction were filed at the Kamrup metros district court there.
It was heard on Tuesday and the court in its ruling on Wednesday said that after going through the petition and documents it is found that there is "substantial question both of law and facts to be adjudicated".
The next date of hearing is June 3,In the injunction case, the judge ruled that it was found that the matter was not emergent in nature to grant any ex-parte order without hearing the opposite parties.
Sharma alleged that imputations against him in the book are "inherently false and malicious" and have been made with "clear intention to defame" him.
There is not an "iota of proof against the applicant to substantiate the inherently false, baseless and malafide allegations" made against him in the book, he claimed in his petition. He also said that he had unblemished reputation before " false, baseless and defamatory allegations" by Gogoi in his autobiography "maligned and irreparably tarnished" his image he also said that he has never had any personal fued with Gogoi "I have never made any personal attack on Gogoi while he was serving in the highest post of adjudicator of India," the APW president pointed out in his petition.
Gogoi had served as the 46th chief justice of India from 2018 to 19.