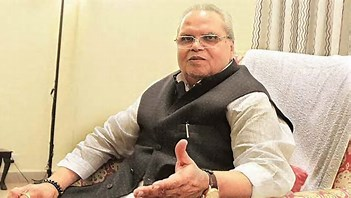 In a significant development, the Central Bureau of Investigation (CBI) has initiated raids at multiple locations in Delhi and Rajasthan, including the residences of former Jammu and Kashmir Governor Satyapal Malik's aides. The raids are part of an investigation into an alleged Kiru hydraulic scam. Among those targeted by the CBI are Sunak Bali, who served as Mr. Malik's press secretary during his tenure as Governor, as well as VS Rana and KS Rana, who held positions as his chartered accountant and personal assistant, respectively.
The CBI, India's premier investigative agency, confirmed that the searches were being conducted at 12 locations, including the residences of the ex-press secretary, chartered accountant, and personal assistant in Delhi. The agency suspects their involvement in the Kiru hydraulic scam, the details of which have not been made public yet.
Responding to the raids, Satyapal Malik expressed his disappointment and called the actions of the CBI "unfortunate." In a statement to ANI, he defended Sunak Bali, stating, "It is unfortunate that the CBI is harassing the complainant in this case. He (Sunak Bali) was my press advisor/secretary without any government salary."
The alleged Kiru hydraulic scam has attracted significant attention due to its potential financial implications and involvement of high-ranking officials. The CBI's decision to conduct raids indicates the seriousness with which the agency is pursuing the case. The specific nature and extent of the alleged scam are yet to be fully disclosed.
The investigation into the alleged Kiru hydraulic scam comes at a time when the government of Jammu and Kashmir is undergoing significant changes. Satyapal Malik, who served as the Governor from August 2018 to October 2019, played a crucial role in the region during a period of political transition. The outcome of the investigation could have implications for the reputation of the former Governor and his aides.
The CBI, known for its meticulous approach to such cases, will likely conduct a thorough investigation to gather evidence and determine the veracity of the alleged scam. The agency is renowned for its independent functioning and has been involved in several high-profile cases in the past.
As the raids continue and more information emerges, the public and stakeholders will eagerly await the findings of the CBI's investigation. The outcome will shed light on the alleged Kiru hydraulic scam and its potential impact on the individuals involved, as well as the wider political landscape of Jammu and Kashmir.