His life has been completely upended by dance. We can all agree that a person's enthusiasm may propel them to success and inspire them to do amazing things. Sometimes, something that wasn't part of our plan ends up being a great success. Nobody is any less ignorant of the truth that following one's passion in life requires bravery.Similar circumstances befell Bengal-based Indian dancer Biswarup Dey Mukherjee, who has travelled and toured India in pursuit of his love. He began dancing when he was only 8 years old and has never looked back since then. He always gave the world of dancing his best effort. Realising how hard it is to be a dancer, he has always worked hard to give best to the dancers so that the world can see the talent.
Introducing Biswarup Dey Mukherjee
He, like any dancer, uses dance as a means of expression, and even he has found that dance has benefited him in ways that go beyond dancing. For him, dance serves as both a means of expression and a means of realising his potential.His road to this point has not been any less difficult than everyone else's.He realised as he grew older that there weren't many options for dance in West Bengal, which was becoming a barrier in his path.He therefore made the difficult decision to leave West Bengal and began searching for chances all over the country. He eventually realised that everything was constrained and that the training needed was inadequate. But he didn't let anything to simply derail his love of dance or his career trajectory of advancement in the dance industry. But he persisted in working hard, and his efforts paid off when, in 2017, he opened his own dance studio under the name of Biswarup Dance Studio. He also gave dancers everywhere a chance to showcase their skills by organising the Extreme Dance Championship in Mumbai in 2018.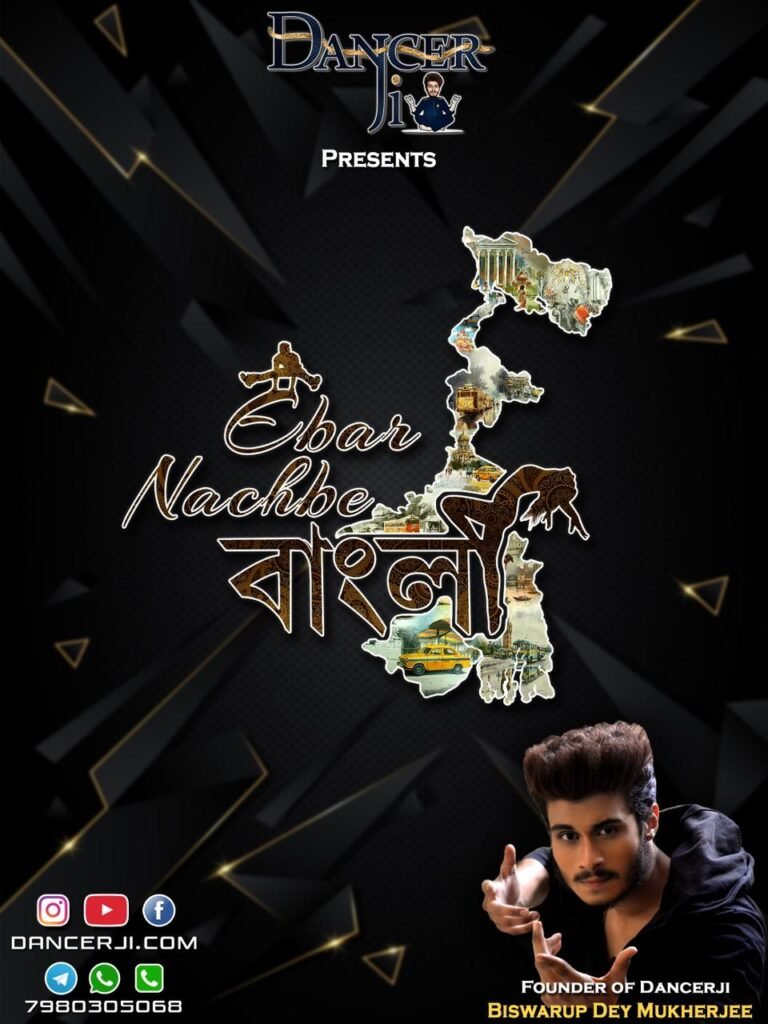 After Extreme Dance Championship, Biswarup realised that there is a wide gap between a dancers dream and the opportunities that they are provided with. He thought that he should bridge this gap and to achieve this, he launched Biswarup Studio which later was later renamed to Dancer Ji and today it has become a brand with premium quality infrastructure and various opportunities.
He has worked with big brands like PC Chandra Jewel, Allen Solly, Louis Philip, Pantaloons etc.
About Ebar Nach Be Bangla
The biggest dance project in Bengal, EBAR NACH BE BANGLA, was also held by him and his team. It was partnered with over 30 media outlets. They are giving dancers a platform where they can showcase themselves and have the opportunity to collaborate with them. ENBAR NACHBE BANGLA is a mission, not just a project. The goal is to create dance opportunities, dance infrastructure and dance culture.
He and his crew are committed to giving people different chances via hosting workshops, competitions, festivals, choreography projects, and instructor work.He is fostering the culture to elevate dancing as a passion, activity, and art more through the dance studio.The dancing studio has held and continues to hold numerous festival competitions, and they are currently filming numerous projects across India.Every little movement they make sows the seeds of dance in each dancer's heart, and they support them by giving them a platform to display their dancing prowess.Since then, his team and he have devoted their hearts and souls to aiding people all across India. They have realised that poor infrastructure and inadequate training hurdles are not simply a problem in West Bengal but are a challenge experienced by many throughout India. They have put in a lot of effort and are still making adjustments to provide a beautiful environment, fantastic training, fantastic work structures, and fantastic compensation structures.He and his team have made it their mission to support dancers and give them the tools they need to succeed. Their aim has not yet been accomplished, but it will be when every dancer receives what he or she was unable to receive. Through their continued efforts, they have witnessed improvement. He and his team make sure that no one else experiences what they did, as they know firsthand how important each component is to shaping a dancing career.
About Dancer Ji
Besides this, Biswarup is building a community of dancers that is determined to bring talented dancers in stage and give them the recognition and opportunities that they deserve. The name of the organisation, Dancer Ji is simple yet powerful one. It is on the way to be India's one of top dance organizations. They firmly believe in two things, the first one being infrastructure and the other one being opportunity. The infrastructure offered by Dancer ji is world class and they are, along with it, are known for their dedicated staff and training.
Their are various workshops that are organised by Dancer ji, choreography based on occasions and days like festival, event, etc. The quality of Dancer Ji is unparalleled and with building of this community they are making sure that no one is deprived of opportunities. Organizing Competition, traning from experts and from himself Biswarup Dey Mukherjee। They also conduct India tour pojects and shoot projects across country.
Website URL : https://dancerji.com/
Social Media:
https://instagram.com/dancerji.in?igshid=MDM4ZDc5MmU=
https://www.facebook.com/profile.php?id=100088216372110&mibextid=LQQJ4d